What is an E-ZPass?
If you are planning to move to the USA soon or if you are already a resident there, you know that having an EZ Pass NY (ezpassny)will make your life much easier. Thanks to this new cashless tolling system, you will no longer need to wait through toll booths or toll barriers to pay for bridges and roads.
Content Menu:
1)What is an E-ZPass?
2)How does the E-ZPass work?
3)Type of E-ZPass account
4)Can I use EZ Pass in New York?
5)How much does it cost to get an E-ZPass in New York?
6)Where to buy E-ZPass in New York?
7)How to create an EZ Pass NY account at e-zpassny.com?
8)How to login to your EZ Pass NY account?
9)EZ Pass NY Customer Service
10)EZ Pass Violations in New York
11)How to install EZ Pass NY Tag in a Vehicle?
12)FAQ about EZPASSNY
This new system has significantly improved traffic movement, lessening the overcrowding to make it easier for drivers to reach their destination most comfortably and conveniently.
The E-ZPass is a digital and regional toll collection system that offers you the possibility to pay for tolls via an online platform. The whole package of this system is composed of the three main essential elements:
A toll tag which is mounted inside your vehicle,
A hanging Antenna that indicates and records the toll tag and collects it at the same time,
Lastly, a camera to recognize any toll evaders.
Thanks to this system, the drivers and motorists will have smooth and easy drive-through toll lanes that are marked with E- ZPass. Seamlessly, the toll will automatically be subtracted from your balance account
How does the E-ZPass work?
Once you open a prepaid account, you will obtain an electronic transponder that needs to be mounted into your car. This small electronic component is an encoded chip with an identification code and is usually powered by a battery.
When you go slowly through a toll facility lane, the EZ pass tag is identified by a toll plaza. Once it is read and identified, the toll will be automatically deducted from your prepaid EZ pass account.
To evade any potential suspension, make sure that your tag is mounted properly inside your vehicle. If it is installed inaccurately, your tag may not be possible to read appropriately, causing you extra fees to pay that reach up to 25 dollars.
In this article, we have gathered and compiled jointly all the needed information and details regarding the E-ZPass and more precisely in New York City. Therefore make sure to follow this guideline to understand the different aspects and various viewpoints concerning the E-ZPass.
But before we jump right into this article, here is why you may want to briefly get yourself an E-ZPass. First and foremost, the E-ZPass is easy to install, anyone can do it himself/herself. There is no need for special tools. Second, this system will save you not only your time and effort but also your money.
As each state offers some discounted fares for its customers, making the payment more convenient and budget-friendly. You no longer need to go through toll booths anymore. Finally, it will reduce congestion and enhance traffic flow.
Type of E-ZPass account
In this section, we will briefly discuss two E- ZPass accounts, the E-ZPass On-the-Go and the E-ZPass Plus.
1. E-ZPass On-the-Go:
This type of E-Z is known to be the best and the most convenient way to save time and money.
What do we mean by an E-ZPass On-The-Go?
As its name entails, it allows for an easy and convenient obtaining of a pass. It can be acquired from any authorized participating retail place for 25 dollars pre-packaged tag. This method offers busy passengers to have an E-ZPass account neither by having to fill in any application form nor by waiting in line to go through booths.
Once you buy your prepackaged tag, the customer must visit the E- ZPass official website to register his tag, or else he/she can call the service center to carry out the rest of the procedure. Once that is done, the paid tag amount will apply directly to your newly opened account.
To finish the whole scheme, you have to install the tag inside your vehicle, and you are ready to go.
2. E-ZPass Plus:
E‑ZPass Plus is a newly added service that allows customers using the EZ pass to pay for parking charges easily and conveniently. At any participating facility that displays the E-Z pass logo, the customer can benefit from this service.
What more do you need to know about E-ZPass Plus?
To be eligible for this benefit, you have to meet certain criteria. These criteria include the fact that you have an E-ZPass service provider account. Besides, you need to have a replenishment account with a credit card.
If you don't have one and want to switch to a replenishment account, call the E-ZPass service system. Or, if you have a prepaid commercial account, call the E-ZPass service to activate the E-ZPass Plus on your account.
How does the E-ZPass Plus function:
Get your ticket once you enter a participating parking facility.
Once you decide to leave, ensure your tag is well installed and have your ticket in your hands.
When you reach the parking exit, affix the ticket on the reader found and push the purple button of the E-ZPass Plus.
You will be provided with a receipt at the end of the procedure. Make sure to take it.
About the fee charges:
You need to know a couple of things about the E-ZPass Plus parking fees. If the parking fees are not over 20 dollars, the fees will be deducted from your E-ZPass account balance. However, if the parking fees are over 20 dollars, the charges will be directly deducted from the prepaid credit card you use to replenish your EZ Pass account.
All E-ZPass Plus transactions will be recorded and shown in your online account statements.
If you don't want to use your E-ZPass to pay for your parking fees, you simply need to pay by cash the parking ticket or by using your credit card at the exit alley.
If you encounter issues using your E-ZPass, contact your E- ZPass service provider in your area. In the case of New York City, you can connect with them through this number (800) 333-8655 or simply visit the website www.e-zpassNY.com
Can I use EZ Pass in New York?
Yes, you can use the EZ Pass in New York State. New York is one of the participating states in the E-Z Pass system. You have to know that you can use the EZ Pass on every toll road that has been marked with an EZ Pass logo.
These roads include those of Delaware, Illinois, Indiana, Maine, Maryland, Massachusetts, New Hampshire, New Jersey, New York, Ohio, Pennsylvania, Rhode Island, Virginia, West Virginia, North Carolina, and Kentucky.
How much does it cost to get an E-ZPass in New York?
You can get your EZ pass in any participating retailer in New York State for 25 dollars per tag. However, the tag prices are a bit higher only in New York City and Long Island. The price per tag can account for 30 dollars.
Where to buy E-ZPass in New York?
You can buy an EZ Pass in New York Stats at major different crossings in New York City, for example. However, you will not be able to purchase it from Brooklyn, Williamsburg, or Manhattan Bridges simply because they still don't have a toll booth.
With that being said, you can get your EzPassNY in any of the following bridges and toll plazas cash lanes;
Bronx-Whitestone Bridge
Cross Bay Veterans Memorial Bridge
Hugh L. Carey Tunnel
Marine Parkway-Gil Hodges Memorial Bridges
Queens Midtown Tunnel
Robert F. Kennedy Bridge
Throgs Neck Bridge
Verrazano-Narrows Bridge.
Other participating and authorized retailers where you can get your EZ Pass include;
Albany International Airport
Bayonne Bridge/New Jersey Route 440 and New York Route 440
Bear Mountain Bridge/U.S. Route 6 and U.S. Route 202
Bronx–Whitestone Bridge/Interstate 678
Brooklyn–Battery Tunnel/Interstate 478
Cross Bay Veterans Memorial Bridge
Goethals Bridge/Interstate 278
Henry Hudson Bridge/Henry Hudson Parkway
New York Route 9A
If you want an E-ZPass On-the-Go, you can check out the Thruway Authority New York Government for more detailed information. The map provided on the website will help you locate the nearest retailers in your area.
How to create an EZ Pass NY account at e-zpassny.com?
When you want to create an E-Z Pass account, you have two main options: opening an individual account or a commercial/business account. This section will show the main difference between these two and how we can create these accounts.
Once you visit the EZ Pass NY official website and are ready to create your account, you will be asked to choose your state of residence. In our case, it is New York State.
Once you choose your state of residence and access to the sign-up page you have to select the type of account that meets your needs.
Individual Account:
To create an individual and personal prepaid EZ Pass NY account, you must fill in the online application that can be found on the official website.
To be eligible for the individual account, there are certain requirements that need to be met:
For cars, vans, pickup trucks, motorcycles, RVs, single rear tires
Up to 4 tags per account
Highest gross vehicle weight of 7,000 pounds
Before you start creating your account, please make sure that you have your License Plate Number(s), your Credit Card, or Checking Account which you will use to finance the account prepared. Besides, you will be demanded to examine the Discount Plans to see if any would serve you.
Once these requirements are ready, click the Continue button to finish the procedure.
If you are looking for discount plan descriptions, check out this website for further details. You will be provided with various individual account programs that you can choose from. Make sure to read them thoroughly and choose the best program that goes with your needs.
These plans are only applicable to NY service provider centers issued tags.
You can also download your application package, including your application form, your Customer Service Center Locations, and your E-ZPass® Customer Agreement Terms and Conditions. However, you will need the Adobe® Acrobat® Reader Version 5.05 or greater to be able to download and print the document.
This is a sample of the first page of the EZ Pass NY individual account application form:
Commercial/ Business Account:
These accounts are for companies that own vehicles for business or commercial objectives. With that being said, if a company has extended fleets that move mostly all the time on the NY State Thruway, then they should create a commercial/business account. The account will be replenished automatically, and the charges will be deducted from an opening balance.
What are the differences between these two types of accounts?
The Business Application Package, on the other hand, includes the application FormSpecial Vehicle Listing: Exterior Tags Required as of 5/04, Customer Service Center Locations, and E-ZPass Customer Agreement Terms and Conditions.
The main difference between these two is that an individual account is for personal use only and specific vehicle ranges. Unlike the business account, which requires vehicles with more than two axles, the maximum gross weight is more than 7.0000lbs.
To open a business account, you need to provide the business name and the Employer Identification Number (EIN). Moreover, you need to identify two individuals who will be responsible for the account and manage it. Other information needed includes a telephone number and email contact details. A credit card for the first payment is required to open an account online via the official website.
How to log in to your EZ Pass NY account?
To log in to your account, you need to visit the official website of the EZ Pass NY and then click on the "My Account" menu.
Once you do that, the login page will appear, and you will have to provide the required details to access your account. These details include your username and password.
On some websites, they can ask instead of the account number or the transponder number in addition to the account password. In case you forgot your password, make sure to request assistance to be able to log in again.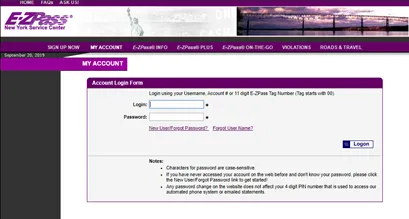 EZ Pass NY Customer Service
For assistance with your E-ZPass transponder or account, it is important to contact the EZ PASS NY customer service. The customer service will help you solve and answer any of your inquiries/ questions or demands regarding various topics. To make the whole procedure of contacting your center easier, make sure to choose a local one.
EZ Pass NY Phone Number:
For customer service in New York, the Phone Toll-Free is 1-800-333-TOLL(8655). Text Telephone TDD/TTY is 1-800-772-7935 and for Fax 718-390-9772.
However, some steps need to be considered to contact an E-Z Pass NY Customer Service. If you want to be connected to a person on the phone, make sure to follow these instructions:
call 1-800-333-8655
Press 1 for the English language set
Press number 9 and wait in line for your turn
After a few minutes, you will connect to a service agent to help answer all your questions or demands.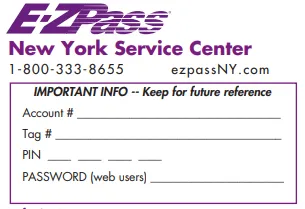 List of E-ZPass Service Centre in New York:
If you need directions on the different EZ pass NY Customer Service Center Locations in New York, here they are:
Queens:
The Queens Customer Service Center is placed at 19-02 Whitestone Expressway. Use the 20th Avenue exit from the Whitestone Expressway.
The Service Center is positioned on the northwest ridge of the crossing of 20th Avenue and the Whitestone Expressway opposite the Post Office. Suite 101/College Pt. NY 11357
Staten Island:
Of the Verrazano Bridge, use the Staten Island Expressway westward to Exit 6 for South Avenue. Once you reach the 1st light stop at South Avenue, turn left.
Follow South Avenue approximately seven-tenths of a mile and turn right at 1150 South Avenue until you reach the parking lot.
If you are taking the Goethals Bridge, use Exit 4 to join Forest Avenue. once you reach Meeker Avenue, shift to the left side, and continue directly to Forest Avenue.
once you reach the light stop, shift to the right of South Avenue. Follow South Avenue approximately seven-tenths of a mile and turn right at 1150 South Avenue until the parking lot. From the Outerbridge Crossing, use the West Shore Expressway north to Exit 9 for Glen Street.
Once you reach the sign, stop, traverse Glen Street and access the parking lot for 1150 South Avenue. you will find the service center ahead of you.
Yonkers:
The Yonkers Customer Service Center is positioned at 730 McLean Avenue. of the Major Deegan Expressway; use the McLean Avenue exit.
Turn eastward toward McLean Avenue. The service center is found just ahead of you on the left side of the Avenue.
How to contact E-ZPass support:
Some situations demand a further critical answer to evade toll violations, fees, or getting stopped in a toll plaza. If any of the following happen, please reach EZ Pass Customer Service right away:
Your E-ZPass tag is LOST or STOLEN
You got a light indicating your toll is due or your account invalid.
You receive a letter from us stating that your credit card declined, is about to expire, or that your account is about to be or has been revoked.
In these situations, you can contact the support center via the available Phone number or the PO Box/ Mail or be present at one of the nearest centers. You can find all the details in the information mentioned above.
Customer Service hours:
Like any customer service center, customers should be aware of determined and available working hours. Depending on the location of the center, the hours vary respectively.
Queens
Monday-Friday: 9am-7pm
Saturday: 8am-12pm
Staten Island
Monday-Friday: 7am-7pm
Saturday: 8am-12pm
Yonkers
Monday-Friday: 9am-7pm
Saturday: 8am-12pm
EZ Pass Violations in New York
Before we jump right into this section, let us first understand the meaning of violation in this concept use.
A violation is simply when a car exits into an E-ZPass road while;
E-ZPass Transponder is not credible
The license plate is not registered on a current E-ZPass account
There is not sufficient credit in the account to be able to pay the poll.
All those mentioned above are considered a violation. The violation notice will be sent to the car driver when this happens. It will take at least 4 to 6 business days for a violation to be received.
How do I know if I have EZ Pass NY violations?
Depending on the previously mentioned potential violations that can take place, further guidance will be needed.
To know if you have received an EZ Pass violation or not, you have to follow these steps:
Step-1: Visit www.E-ZPassNY.com
Step-2: Click on the Violations tab, and then you need to follow the instructions provided on the website page
For this procedure, you will need:
the violation number
License plate number.
In general, you will receive a violation notice if:
If your account is in a negative balance, you are using the tag.
If you surpass the speed limit, your account will be suspended
If your tag is lost or stolen, you can even pay extra fees that reach up to 50 dollars
If you use the Tag for a different car class for which the Tag is entitled.
How to pay EZ Pass violations online in NY?
Following the previous steps to check your violation status, you will be provided with different methods to pay for your violation notice. You can choose the one that suits your needs and preferences.
Here are some of the different ways you can pay your violation:
Online Pay via the website by filling in all the necessary details and information to finish the procedure.
Pay by your card, either your debit or your credit. This can be possible by utilizing the Voice Response System at 1-800-333-TOLL(8655). Make sure to have the violation notice prepared.
Paying a check by mail
Check into any close retailer or toll booth place and pay using cash.
Note: Check out the notice for further instructions for the last two points.
How to dispute EZ Pass violations?
According to EZ Pass NY, all disputes must be presented in writing to the E-ZPass Violations Processing Center at the following address; E-ZPass® Violation Payments and Inquiries, PO Box 15186, Albany, NY 12212-5186. Besides, you can additionally FAX your dispute to 1-718-816-0762.
The writing must be sent within 180 days of notice that a toll, fee, or any other charge has been entitled to your Account. You will also have to distinguish the violation's nature, the date and time of the occurrence, and why you are disputing this particular violation.
How to get out of EZ Pass violations?
If you want to get out of an EZ Pass violation, you might need to contact the customer service center concerned with violations and give your violation number to the agent. Emphasize to him that this is your first violation made and ask him to reserve the administration fees that usually reach up to 50 dollars. If you can get the administration fee suspended, you'll simply have to pay the toll.
How to install EZ Pass NY Tag in a Vehicle?
There are three possible ways to install the tag in your car. Let's check them out:
Windshield Mount:
The first thing you have to do is ensure that the windshield is washed and dried, especially the area around the back view mirror.
Check out the different faces of your EZ Pass tag; the front side usually includes the label, the logo, and the number of the tag); this surface needs to be inside the car with indicators pointed out to the roof area.
Find the right placement to locate the tag. Usually, the best location is at the center, especially at the windshield's upper side.
There are four sticking layers; while two of these four pieces are forever installed to the tag, the others are mounted to the windshield. You only need to remove the protecting support that can find the back of the tag.
Have the right side of the tag in front of you and place it in the right position. Once you place, press firmly and securely on the vehicle glass for more than 10 minutes to ensure it is well bonded.
The E-ZPass tag can be separated by smoothly raising one angle of the tag to part the sticky pieces.
License Plate Mount:
Check out the different faces of your EZPassNY tag; the front side usually includes the label, the logo, and the number of the tag); this surface needs an inward-facing to your vehicle.
Set the E-ZPass tag to the forward license plate utilizing the actual top installing bars and the knock-out openings at the base of the E-ZPass tag.
Roof-Mount:
Find the right and exact placing point for your E-ZPass roof-mount tag. It should be on the vehicle's roof, located in the center at least 3″ from the head of the vehicle roof.
Do not install the tag:

On the oblique facade of a vehicle or roof. The base of the tag device must be parallel to the road;
Near or at the back of the horns, the vehicle lamps or other metal gadgets;
FAQ about EZPASSNY
To help you better understand some details on the EzPassNY and, more specifically in NY, here are some of the most frequently asked questions:
What happens if you don't pay for an EZ pass ticket in NY?

If you fail to pay for your E Z pass ticket in New York, you must issue it at any nearby local toll booth. Explain your situation, which is not enough funds to make transactions successful. You will be given an additional seven days to pay for it.

However, suppose you don't pay for your tolls and have them accumulated over time. In that case, the New York State Department of Motor Vehicles will notify you of your EZ Pass account registration suspension.

The content of the notice includes an order to pay all your tolls and any other unpaid charges or the suspension will take place. Of course, you have the right to request a hearing from the DMV. Until you get the result of the hearing, the suspension will not be affected.

Is there a monthly fee for EZ Pass NY?

Extra fees are inevitable for sure. The NY Port Authority imposes monthly service charges on its E Z Pass consumers. The charges, however, are symbolic. The price is only 1$ per month. If you reside in New York, you can enjoy a 6$ yearly charge which can be a good deal.

Why EZ Pass is cheaper in NY?

The E Z Pass is cheaper in NY simply because there are lots of discount plans provided for the customers that they can enjoy. The plan descriptions include a basic plan where E-ZPass discounts apply to commuters plan, resident discount plans, vehicle-discount plans, and finally, pay per trip with a standard plan.

Depending on what type of plan goes with your needs, you can choose the best one for them

Is E- ZPass NY website down?

The E-ZPass website has been down for a couple of weeks now, and there is no exact date on when it will return to work. However, the system will continue to collect your tolls.